Politics is (not) a bitch!
Politics is the study or practice of the distribution of power and resources within a given community (a usually hierarchically organized population) as well as the interrelationship(s) between communities. - What a wonderful definition! Short, concise and clear (I like them that way the most). But as it usually happens (fuck it, I love this sentence) in our society everything needs to be turned upside down. Bosnia and Herzegovina has several levels of political structuring, according to the Dayton agreement. The most important of these levels is the division of the country into two entities: Republika Srpska and the Federation of Bosnia and Herzegovina. The Brčko District in the north of the country and was created in 2000, out of land from both entities. It officially belongs to both, but is governed by neither, and functions under a decentralized system of local government. The representation of the government of Bosnia and Herzegovina is by elites who represent the country's three major groups, with each having a guaranteed share of power. The Chair of the Presidency of Bosnia and Herzegovina rotates among three members (Bosniak, Serb, Croat), each elected as the Chair for an eight-month term within their four-year term as a member. The three members of the Presidency are elected directly by the people with Federation voters voting for the Bosniak and the Croat, and the Republika Srpska voters for the Serb. The Chair of the Council of Ministers is nominated by the Presidency and approved by the House of Representatives. He or she is then responsible for appointing a Foreign Minister, Minister of Foreign Trade, and others as appropriate. The Parliamentary Assembly is the lawmaking body in Bosnia and Herzegovina. It consists of two houses: the House of Peoples and the House of Representatives. Fuck (I promise to be more polite) if all enormous amounts of money that Bosnia and Herzegovina pays out to governing bodies for their precise functioning (let's pretend they do) were invested in economy development, then where would be the end?!
Take into consideration that external debt in Bosnia and Herzegovina is 8285565,54 BAM (and that Milorad Dodik – President of Republika Srpska took a new loan – 300 mil BAM to be precise) that on 04/30/2015 542,253 people were in the yearly record of the employment services (although Bakir Izetbegovic - convincing winner of the elections 2014 promised to employ 100 000 people), and that Bosnia and Herzegovina is not even close to joining the European Union, I can say that citizens of Bosnia and Herzegovina have serious mental health problems that they should begin to treat, otherwise I do not foresee a bright future. But OK, I'm just a hater who doesn't love its country (There isn't more logical explanation to describe the country that has willingly agreed not be constitutional.) Few months ago, I was talking with a friend about the workers of Tuzla detergents factory "Dita". And so, in intellectual mood, naive as I am, I say that their media campaign is a good thing but it has nothing to do with the economy, because the economy is not solidarity. The citizens of Bosnia and Herzegovina will buy their detergent once, clean to help them, but next time they will realize that for the same money they can buy much better quality product and will do the same (as it is the consumer freedom and to be fair, Bosnian mentality has never been consistent to itself). Of course, I do not stop there, but I continue by saying that this whole campaign, "Buy Domestic" is a bullshit (sorry! I will not do this again) and that I will use my earned money to buy whatever I want. So this means that I will only buy quality products (be it domestic or imported) and the economy of a country should not be based on low-cost advertising programs but on serious investment ventures which, to my great sorrow, are not to be found in Bosnia and Herzegovina. And how to find it when you know that in every normal country to register a business it takes more than two days, while in Bosnia and Herzegovina person who wants to start a business goes through severe mental and physical torture of hazardous administrative obstacles starting from the counter unfriendly worker who get a salary to be audacious, repugnant (and ugly! - you have to admit that most of them look like Dušanka Majkić - epistle in Parliament Assembly of Bosnia and Herzegovina). And yes, after this intellectual thinking of mine, my friend declared me state enemy No. 1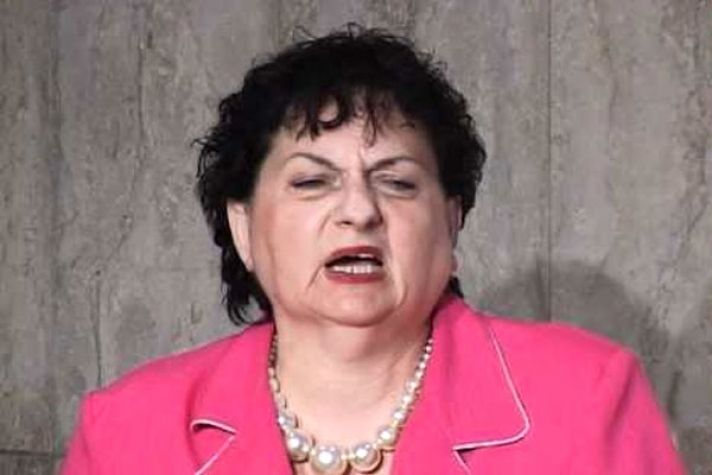 Next, the people of Bosnia and Herzegovina complain about corruption, nepotism, party recruitment and still fight so hard to keep public companies (and is not that funny ?!). Liberalism, I think of economic liberalism, true liberalism, privatization (in which BiH it does exist, to be clear, tiny pinpricks are not privatization) provides employment on the basis of quality, as the owner of the private company wants workers to perform quality work for which he/she is paid. Let's go back to one of my before mentioned workers whom the state pays a salary (just to say!). Or compare the workers of University Clinical Center Tuzla with workers of Health Institution Special Private Hospital "BH Heart Centre" Tuzla. The procedure to make a normal heart examination at the UKC Tuzla is more complicated than breaking into the vault of Swiss bank accounts. First you wait two or three months (if you don't die until then!). Then you come to the counter number 1 where you are faced with the worker from the beginning of the story who gives instructions to go to the counter 2. Upon arrival at the counter number 2 you can expect a queue average length 15 meters. There, you wait for approximately 45 minutes to get to impolite worker who sent to the counter number 3, since she is not responsible for your problem. You wait for another half an hour finish everything with a worker number 3, who sends you back to worker number 1, where you wait for another 3 hours, perform the needed test, and the results will be in your hands for about 3 months from the moment you took the test. THAT IS THE PROCEDURE. If you want to take a test at BH Heart Centre Tuzla just call a kind aunt who sets you up an appointment with another doctor that is even kinder and more than ready to answer all of your questions, and the results of the examination you will get the same day. Why is that so? Because serious privatization requires real and educated quality, as opposed to state institutions without any quality whose only job is to empty state coffers. And yes, politics is not a whore, the citizens made it such!